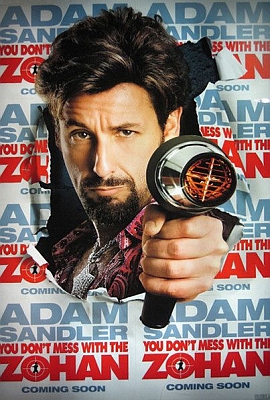 Ok. el fin fuimos a ver la nueva película de Adam Sandler You dont mess with the Zohan y háganse un favor.... Dont mess with the Zohan...!!!
La mayoría de las personas que les pregunto odian a Adam Sandler y sus movies, pero a mi me eran bastante agradable... pero esto del Zohan la verdad que no le veo el punto.
La verdad que la película no trae nada extraordinario, hablando de comedia. Hubo una sola cosa que me gusto y espero que todos los que vean la película entiendan el mensaje...
Pues el Zohan es un espía israelita que quiere ser estilista y se hace pasar por muerto en su país para poder zafarse del ejercito y cumplir su sueño... y donde se cumplen los sueños pues en New York y aquí es a donde se va a refugiar... pero no encuentra oportunidad de trabajo mas que en una estética en "territorio" palestino... En New York palestinos e israelitas viven en PAZ! pero un malvado empresario quiere los terrenos de estos dos pueblos para un beneficio propio asi que provoca una guerra entre ellos para el parecer el INOCENTE en este caos... sounds familiar!?...
Y este es el mensaje que salvo la película para mi.... como el empresario

AME

RI

CANO hace la

GUERRA

entre

2 PAÍSES

para su propio

BENEFICIO

sin que su

IMAGEN

salga perjudicada ya que el solo esta tratando de

PROTEGERNOS

a todos... and it's been going on for thousands and thousands of years... THE END